By Dawn Burkes | Los Angeles Times

Many viewers cut more than just cords when they migrated to streaming services: They cut costs. Somewhere along the way, though, individual streaming bills began to add up to the high cost of a regular ol' cable bill. So it's time to cut a little deeper.
Well, as they say, "There's an app for that." And though a number of the most popular streaming services have free or inexpensive ad-supported options, they're just the tip of the iceberg for the cost-conscious consumer.
If you're willing to put up with a commercial (or 10) when you sign on to watch, at least in most cases, you can save a bundle of money with the platforms below — no rabbit ears required. The only thing you'll have to pay is attention.
Here's a guide to some of the top free streaming services going. For now.
Amazon Freevee
What to watch • Original comedy docuseries "Jury Duty"
It's high time that Amazon gave back to the viewing community, and it has done that with this streamer once called IMDb TV. Freevee, launched in 2019, maintains the familiar Amazon Prime Video interface, maintaining features such as "X-ray" that allow you to learn about the actors in each scene and other background information. One should expect nothing less than an extensive library from an Amazon brand, and it delivers. Even hard-to-find movies such as the cult favorite horror flick "Petey Wheatstraw: The Devil's Son-in-Law" can be discovered among the offerings. And the recent hit series "Jury Duty," which the L.A. Times described as "something like watching '12 Angry Men' directed by Christopher Guest," is just one Freevee original worth watching; TV critic Robert Lloyd named "High School," inspired by real-life singing sisters Tegan and Sara, one of the best shows of 2022.
Crackle
What to watch • "Stagecoach"
Unlike the young Freevee, Crackle is an OG in the game. The streaming service was founded in 2004, and at one point Sony owned it. Now owned by Chicken Soup for the Soul Entertainment Inc., Crackle has expanded beyond the anime for which it was originally known. The streamer has a pretty good list of older and lesser-known movies in its lineup, but the common-sense categories help you find what you're looking for quickly. Crackle even has original series, one of which you may not even know you knew: "Comedians in Cars Getting Coffee" is now on Netflix, but the Jerry Seinfeld-hosted series started 11 seasons ago on Crackle. Other "Crackle Original" series include a television spinoff of the Guy Ritchie-directed movie "Snatch" and "Inside the Black Box," hosted by Joe Morgan ("Scandal") and Tracey Moore. Two caveats: Crackle is available only in standard definition and you have to register to get the most out of it. Movies run the gamut from "Gaslight" (1940) to "Sharknado: Feeding Frenzy."
Crunchyroll
What to watch • "Demon Slayer: Kimetsu no Yaiba"
Chances are your anime-obsessed friend — and that includes your child — can tell you all you need to know about Crunchyroll. The premier home for the anime of your dreams got a boost when Funimation content rolled onto the service last year. There are three tiers above the free one, each with increasing bonus attractions including no ads and swag. Crunchyroll calls itself the "ultimate anime experience with subs, dubs, films and simulcast series in over 200 countries and territories and in 10 languages." I don't know if I can argue. All I know is that's a lot of words to just say the word "free."
Hoopla Digital
If you have a library card, you have free access to Hoopla. (And if you don't, the registration process offers you a chance to get one.) Hoopla offers a guide based on its popular offerings, which include classic titles such as "Breakfast at Tiffany's" and more modern fare such as the TV show "A Discovery of Witches." The drawback is that you're limited to your library's catalog; the benefit is that you're able to borrow other entertainment, such as music, graphic novels and e-books. And don't worry, the catalog will only get more extensive: Creators can add their titles to the thousands of libraries that use the service.
Kanopy
What to watch • "Moonlight"
Kanopy is free to use for those with a public library card or a valid university account. Even better than that, there are no ads. Much like Hoopla Digital, the libraries — and in this case also the universities — carry the cost so that the public can enjoy access. Check kanopy.com to see if your library or school offers this service, for which the bulk of the movies are acclaimed, educational and/or award-winning. The streamer also hosts Kanopy Kids, a collection of TV shows and movies for children. Kanopy Kids allows the glory of unlimited plays, because if you've been around younger children, they can get engrossed in the same movie over and over (x10) — just like some grown-ups with "Tombstone."
Plex
What to watch • "The Green Knight"
Plex gets right down to business. "Go ahead, stream free" is the first thing you see, even before you log in. Which you don't even have to do to enjoy the long list of free movies and TV shows — and live TV, including an easy-to-use guide to what's playing. The key to Plex's plethora of entertainment lies with the fact that it pulls from other streamers so you can search for what you want, rather than what they have. The PlexPass tier offers perks such as DVR for live TV and the ability to add your personal media into the stream or download your favorite entertainment; sorry, buddy, you may not have to watch credits anymore, but you'll still have to watch ads. Plex says it has "13 million (and counting)" users. And it's easy to believe the "and counting" as it's just $4.99 per month to upgrade. That's bound to happen when your "start streaming" clarion call threatens viewers with a good time.
Pluto TV
What to watch • "Mean Girls"
Pluto may not be a planet anymore, but it sure is a free streamer. Most people first come across Pluto on their smart digital TVs, but like most others, it can be watched on almost anything with a screen. It has live TV, including sports and news, along with a handy guide that you can customize. Scroll through the guide where a movie plays while you search for something to watch. Click another button and that movie pops out onto a separate screen and follows you, allowing you to never miss a minute. There are hundreds of live TV channels and many more on-demand titles. Pluto TV is able to offer the live TV through partnerships with other media companies. You will see the Paramount+ logo, trust. The streamer calls itself the "Pluto TV universe" for a reason.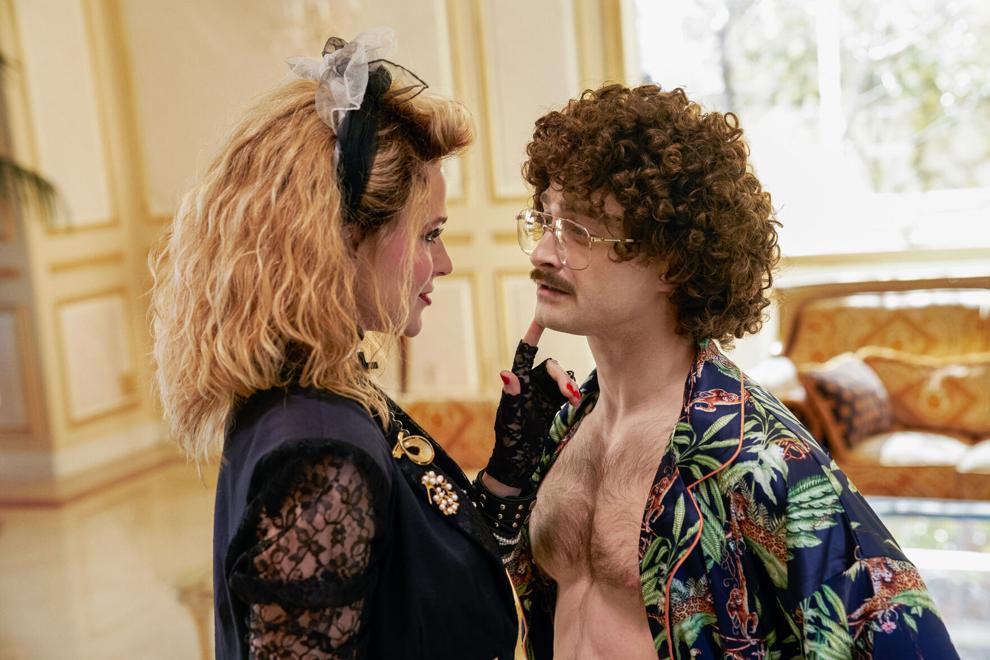 Roku Channel
What to watch • "The Great American Baking Show"
Many people will be more familiar with Roku as hardware, but there's also the Roku Channel, which offers live and on-demand TV and movies. Premium subscriptions are just a click away if you're feeling froggy, but we digress. It's all about what viewers can get for free, which includes news and sports. Roku Channel originals include "Die Hart," which stars Kevin Hart as the "world's biggest action star." For that premise, one can only hope Roku holds to its promise of fewer ads than network channels.
Tubi
What to watch • "Ichi the Killer"
Tubi will probably have you at "no subscription required." Like the others, there will be ads. Unlike the others, Tubi claims more than 50,000 movies in its library and 64 million users (plus one). Tubi, which is owned by Fox, partners with companies such as Lionsgate, Paramount and MGM to bring that staggering amount of content to whatever screen you're watching. Networks include A&E and Fox Sports. Switch over to "Tubi Kids" and discover "Like Mike 2: Streetball" or rewatch "The Lego Movie 2: The Second Part." Then press a button and go back to grown folks' business, including "Tubi Originals" in every genre — even horror — though the favorite seems to be thrillers: "Murder at the Murder Mystery Party" (not made up); "Romeo and Juliet Killers" (also not made up); and "TMZ Presents: Megan vs. Tory: What Really Went Down." Quantity is the name of the game for Tubi.
Vix
What to watch • "Police Story"
TelevisaUnivision owns Vix, which bills itself as the largest Spanish-language streaming service. Vix boasts scripted and unscripted originals as well as live sports and news — and telenovelas. The service was just started in March 2022, but it came out as if it had been around for years and introduced 50 originals. Though the ad-supported tier is free — the one we know you want — there is a premium tier. Free viewers will still be able to enjoy the service's around-the clock sports news channels and the promise of 3,000 live soccer matches per year. It's worth noting that the website is easily navigable and pretty to look at, to boot.
Xumo Play
What to watch • "Tina Turner: Simply the Best"
Look at Charter Communications and Comcast joining hands for their own free streaming service. Won't he do it?! Xumo has been around since 2011 and has slowly grown its content offerings. Founded to offer free streaming, Xumo has not only expanded into the free streamer Xumo Play but also the TV hardware through which you can watch the service. The company proudly says on its website that it strives to be the "best TV experience for the entire entertainment ecosystem." Heady words from any streamer. But Xumo Play goes one or two steps further than most of its competitors, offering not only networks you know and love, such as ION, but also its own networks, including "Xumo Crime" and "Xumo Her Movies." Curate that, other streamers.