Kevin Daniels, Jewel Staite and Martin Cummins also star in this thriller from Factory Film Studio slated for release in 2024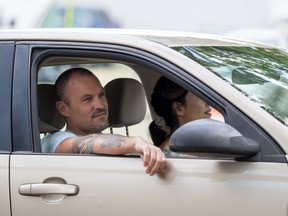 Reviews and recommendations are unbiased and products are independently selected. Postmedia may earn an affiliate commission from purchases made through links on this page.
Article content
Leduc is not a place one might expect to see Hollywood actors milling about, but a steady stream of fans has tracked down former Beverly Hills 90210 heartthrob Brian Austin Green while he's been in town shooting for the feature film Chasing Midnight. 
"Everybody's been incredibly kind," the 50-year-old actor said between shots on Monday, before being interrupted by another woman asking for photos. Green happily obliged, taking a break from our interview to help her find the best lighting, and reassuring her the blood covering his hands and shirt wasn't real.
Article content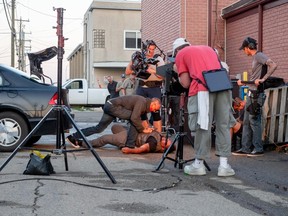 Unlike working in known film hubs like Vancouver, Green said people are "shocked" to see him walking down the street in Leduc, a suburb of 30,000 people south of Edmonton. 
"It's definitely crazier. It's a little more intense here in a small town, for sure. Plus, everybody knows that we're shooting because Michael (Patrick Lilly, the film producer) f—ing told everybody, the bastard," he joked. 
Green, who's also been in shows including Magnum P.I. and Terminator: The Sarah Connor Chronicles, will play the starring role in Chasing Midnight, a heist movie written by local screenwriter Brandon Rhiness. This is Green's second time this year shooting in Leduc, after Cape Holly Christmas filmed in March.
Leduc location "amazing"
Both movies are produced by Factory Film Studio, where Lilly is chief creative officer. He moved the company to Edmonton from Kingston, Ont. last summer and Chasing Midnight is Factory's third Albertan feature, its first being Red Pine City starring Eric Roberts.
The crew has been stationed since Aug. 14 at the Alberta Health Services Centre Hope building on 49 Street and 49 Avenue and shooting in a vicinity of several blocks, including the local diner and saloon, and three houses across the street from Centre Hope, whose residents were paid and put up in a hotel while the crew filmed. 
Article content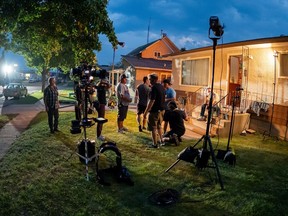 "It's an ambitious shoot. It's a 14-day shoot on a full-length script with a lot of things happening in it," said Green. "But the locations being so close, proximity-wise, to our base camp, is really helpful. It's pretty amazing."
Lilly explained that Green's character, Chris, has been recently released from prison after numerous run-ins with the law when he hooks up with a childhood friend who got him into trouble in the first place, leading to a night of crime and, possibly, redemption.
"He is coerced into doing one more job to settle old scores, and of course, it goes horribly wrong and he basically has one night — he's chasing midnight, he's chasing time, to save his family and save his own future," Lilly said. 
The film's tagline is "Twelve hours to change your life." 
Chasing Midnight will disguise Leduc as Rochester, Minn., a city of 121,000 Lilly describes as a "gritty industrial town" — a characterization that will be emphasized by B-roll from refineries in the Edmonton area. Although Chasing Midnight will have a very different feel than Cape Holly Christmas, Lilly said it felt like the perfect place to return. 
Article content
"Everyone was really accommodating, and we got back in touch with the city folks and some locations and it just seemed to make sense and fell into place, so here we are again, not six months later," he said. 
The cast also includes Jewel Staite (Family Law, Firefly, Stargate: Atlantis), Martin Cummins (Riverdale, When Calls The Heart, Smallville), and Kevin Daniels (The Big Leap, Atypical, Modern Family).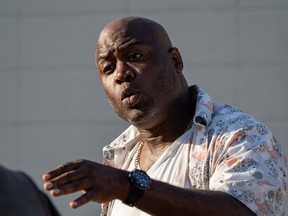 Rare chance for big names
Some of the biggest stars come from the 63-member crew which, because of the ongoing Screen Actors Guild and Writers Guild of America strikes, has some heavy hitters who would not typically be on board for a small, independent production. Director of Photography Demetri Portelli has done cinematography for films including Martin Scorcese's Hugo, while the set deck team worked on the last Ghostbusters movie in Drumheller and Calgary, and the props team worked on Christopher Nolan films shot in Calgary. 
"Because a lot of the big shows are on hiatus, we have an unbelievable crew, a crew that is far superior to what our budget would represent," Lilly said. "All real, true, seasoned professionals that work on larger shows, but they're not working right now."
Article content
Shooting is set to wrap up Thursday. 
Director James Allen Bradley, in the Edmonton area for his first time, called Leduc a "beautiful little city" that's been a breeze to work with.
"Smaller cities unaffected by Hollywood are always easier to negotiate," Bradley said. "In L.A. or in Vancouver where they shoot all the time, the neighbourhood doesn't like you to shoot, the permits get tough to pull, all those kinds of things."
An introduction to Alberta weather
His only complaint has been the weather, which has fluctuated from periods of heavy rain to dry heat in a way that has conflicted with the shooting schedule. On Monday, with the sun beating down at 28C, crew members did a "wet down" in a back alley, spraying water to simulate the remnants of a rainy night.
"It's totally screwed with us. We're a partial rain movie, so when it rained it wasn't supposed to — when it didn't rain it was supposed to," Bradley said. 
Film Factory has hired area businesses like The Party People Catering Company in Acheson, and many locals on the crew as well. Associate producer Delbert Lewis, who grew up in Edmonton and attended NAIT's digital cinema program, has been hard at work behind the scenes coordinating the needs of actors and various departments throughout the shoot. He says the job is always "a little crazy," but things have gone well so far.
"It's fun. It's problem-solving, it's challenging, you get to work with great people and everyone's really appreciative when you help them out," Lewis said. "It's really rewarding." 
Chasing Midnight is slated for release sometime in 2024.