A death was under investigation at the Burning Man festival amid the rain and mud, local authorities said Saturday, and attendees were urged to shelter in place as the event was all but shut down.
The Pershing County Sheriff's Office in northern Nevada announced the death, which it said happened "during this rain event." The sheriff's office offered few details, including the person's identity or the apparent cause.
"As this death is still under investigation, there is no further information available at this time," the office said in a statement.
The party appeared to be all but over, and organizers said they were focused on getting people out of the area safely.
"Most Festival operations have been halted or significantly delayed," the sheriff's office said.
The sheriff's agency, which previously said people were free to leave the festival amid a lockdown for vehicles coming in, said Saturday night that it supported the organizers' shelter-in-place recommendation for the more than 70,000 estimated to be at the desert event.
"Some vehicles have been able to drive off the Playa, however, those vehicles have caused damage to the Playa surface, and it is not recommended at this time," the office said.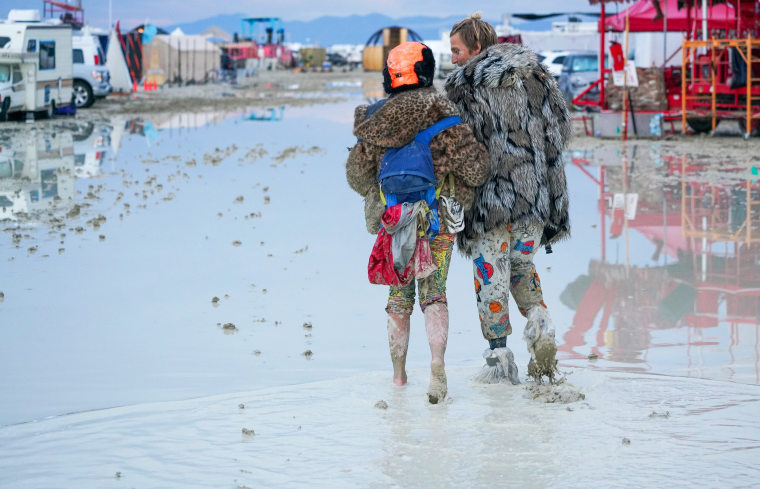 "There is more rain forecast for the next few days, which could cause further delays and disruptions for participants attempting to leave the Festival as well as other operations within the Festival," it added.
Extra resources were on hand, the sheriff's office said. Organizers said they were moving cellphone trailers into the event area so attendees could maintain communication. They also said they were opening up Wi-Fi to all.
Organizers said in a "Wet Playa Survival Guide" statement and Q&A that it was possible and permitted to walk as many as 5 miles to the nearest road to Gerlach, and they will provide buses to Reno. Gerlach hotel rooms are booked up, organizers said, and they discouraged making the trek in the dark.
They also said the festival's iconic burning effigy, scheduled for Saturday night, had been postponed.
The main focus for organizers now was getting people to safety in the days to come, they said. "We are engaged full-time on all aspects of safety and looking ahead to our Exodus as our next priority," the statement read.
Shelter in place
Attendees of the weeklong countercultural music and arts festival were first advised to "shelter in place" and conserve food and water on Friday, according to notices from organizers. All inbound traffic was halted and would remain so until further notice, organizers and federal and county officials said Saturday.
"Participants inbound for the event should turn around and head home," the Bureau of Land Management said in a statement Saturday.
The festival's front entrance was closed. And widespread rain was expected in northern Nevada on Sunday.
"Honestly even if they didn't limit it [traffic], it would be self-limited because of mud," said Sean M. Burke, emergency management director of Pershing County, Nevada.
Though organizers said the gate and airport in and out of Black Rock City remained closed Saturday night, authorities had said participants were free to walk away from the event, which is temporarily built each year on lava beds, alkali flats and the flat bottom of the defunct Lake Lahontan in the federally protected Black Rock Desert.
Some Burning Man attendees began trickling out of the festival on foot Saturday, authorities said.
Diplo, a DJ who has been performing at Burning Man, posted a video on X, the platform formerly known as Twitter, of him riding in the back of a vehicle.
"just walked 5 miles in the mud out of burning man with chris rock and a fan picked us up," he said in the post.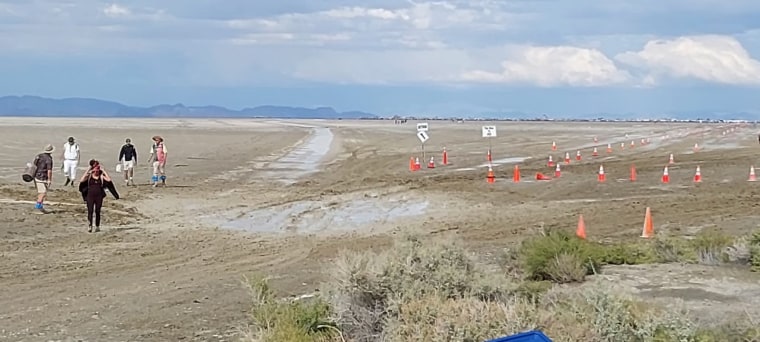 Sgt. Nathan J. Carmichael of the Pershing County Sheriff's Office said early Saturday evening he spotted a dozen or so people hiking toward an accessible road, where Burning Man organizers were helping them get rides to Reno.
"I don't know if they're going to be able to come back or not," he said. "A lot of them are leaving their campers and saying they'll come back in a couple days."
Otherwise, the party known for bright costumes and homemade cyberpunk vehicles is on a virtual island, with an estimated 70,000-plus participants isolated from civilization, Carmichael said.
That existence apart has been core to Burning Man's draw, rain or shine, for decades.
Burning Man is an event of self-expression that culminates in the torching of a 40-foot effigy. The practice originated with the burning of an 8-foot wooden man in 1986 on San Francisco's Baker Beach, which evolved into an annual event in Black Rock Desert.
More rain forecast
Heavy rainfall was reported across Nevada on Friday, with the threat of flash floods looming over eastern, north central, northeast and south central Nevada over the weekend, according to the National Weather Service.
The flash flood watch will remain in effect for the region through Monday morning, with "widespread" rain
Overnight, Black Rock City received about 0.6 to 0.8 of an inch of rain, according to a Saturday morning update from organizers. Rain was expected to return Sunday morning.
"If you are in BRC, conserve food, water and fuel, and shelter in a warm, safe space," organizers continued to warn Saturday.
Only emergency vehicles were allowed to drive in Black Rock City, according to organizers.
Annual gathering
Tens of thousands gather annually in Black Rock Desert for the event, according to Burningman.org.
On Saturday, video and photos posted to social media depicted attendees gathering in mud, walking barefoot through mud, and living with mud that had lined some of their tents.
In 2019, the Bureau of Land Management set capacity at 80,000 for the weeklong event under a request from organizers for a 10-year special permit. The bureau considered plans for stepped up growth year-to-year, but said 80,000 people were as many as local first responders could handle.
This year's 3,900-acre event began Aug. 27 and is scheduled to end Monday.
Carmichael of the sheriff's office said organizers, his county, the Bureau of Land Management and other officials were prepared if rain was heavy Sunday and more mud locks in attendees.
"If that trigger is pulled, and I don't know what the trigger is, we'll get together and pool all our resources and see what we can accomplish," he said.