As European settlers ventured into California, they encountered a thriving Native American population of over 130,000. The influence of missionaries and their efforts to convert the indigenous people to Christianity played a pivotal role in shaping the prosperous California known today, as documented in the Britannica Historical Overview of California. However, the first recorded drastic population increase in California is attributed to the discovery of gold during the infamous Gold Rush period, attracting over 40,000 fortune seekers in 1849. This influx of new residents, motivated by life-changing economic prospects, peaked in 1852, surpassing 300,000 individuals and giving rise to conflicts between newcomers and long-time settlers. From their abundant natural resources to their current status as an American cultural epicenter and dominant technology hub, The largest cities in California stand today as the most populous communities in America and make up some of the best places to work, live, and study. 
Los Angeles 

Inhabited by indigenous tribes of the Tongva people, Los Angeles was first settled by Juan Rodriguez in 1542 and officially declared a city in 1835. The City enjoys diverse economic engines, education, healthcare, and agriculture, but its dominant GDP-contributing sector is the Hollywood film and entertainment industry. Los Angeles has seen a constant increase in population since the 20th century, doubling in size in 1930 from 600,000 to 130,000, and a total of 3,822,238 residents in 2022. Home to the Los Angeles Lakers NBA team, the upscale Beverly Hills residential area, the picturesque Monica Pier, and Griffith Observatory are a few of the city's endless attractions. In addition to its staggering population of locals, major educational institutions like the University of California-Los Angeles, which ranks 15th among national universities, and the University of Southern California attract thousands of students annually. When visiting Los Angeles, note that its weather is almost always sunny, public transportation is not the best way to get around, as the famous song suggests, "Nobody walks in LA," and nightlife is significantly more expensive than neighboring cities.
San Diego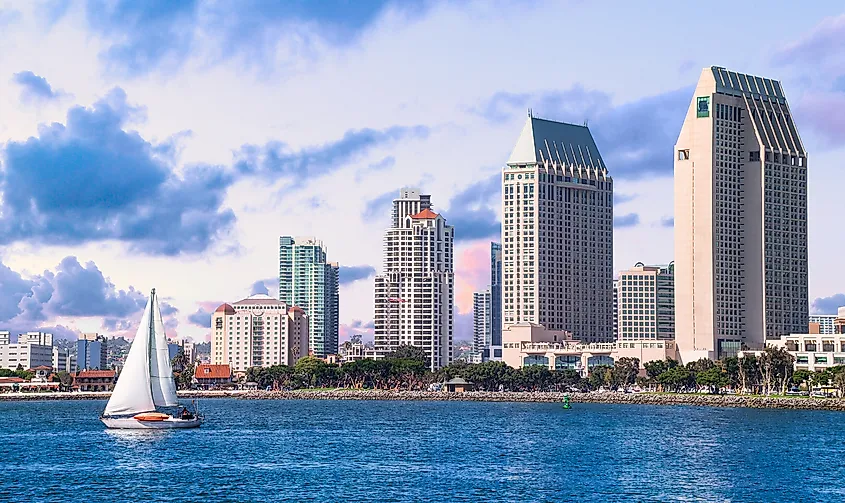 San Diego started as a small town under Spanish rule, which has immense influence on its beauty today, from architecture to cuisine and culture. It was part of the Mexican Empire for over two decades until it was officially recognized as an American village with 650 residents in 1850. The city's development is attributed to the establishment of multiple military facilities in 1180 that positively affected the city's economy after World War II. the recorded population of San Diego in 2022 was ​​1,381,162, ranking as the Golden State's second-largest city and an important business hub and tourist destination. In 2014, San Diego was listed by Forbes as the best American city to launch a business. Its perfect year-round climate, pristine beaches, and world-class entertainment destinations like San Diego Zoo and Legoland are a few of the many destinations to explore in San Diego. When visiting, it's important to note that not all beaches are swimmable. There is an inclusive transit card you can purchase to ride all methods of public transport, and the months of May and June are among the hottest times to visit. 
San Jose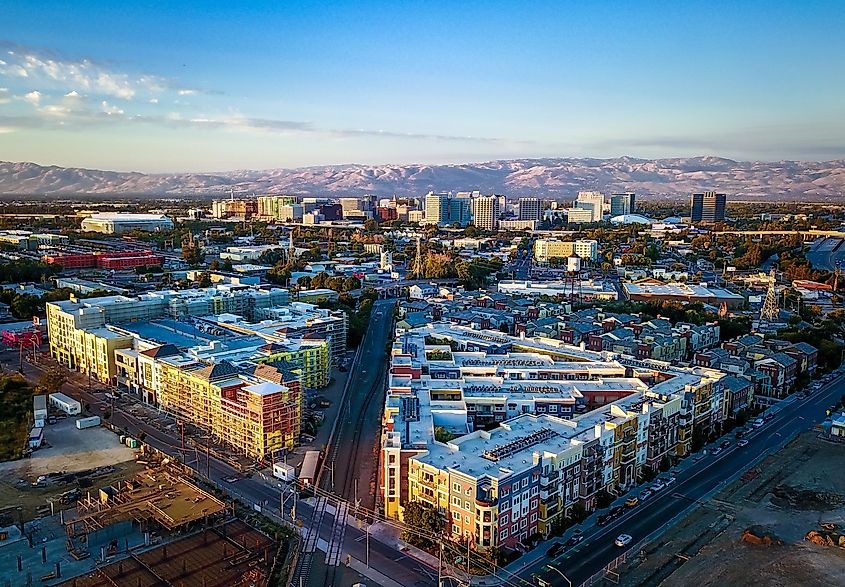 San Jose was initially a farming community developed by the Spanish Pueblo de San Jose in 1777. The city thrived economically with the development of the railroad system in 1864, allowing farmers to access and supply further markets. Post World War II, the city witnessed the development of new industries like electric, technology, and machinery manufacturing, ultimately leading to the sizeable expansion San Jose enjoys today. With 971,233 residents, San Jose is globally recognized as the Capital of Silicon Valley, the global hub for software, technology, and innovation. Thanks to the city's booming technological and financial industries, San Jose is also home to the most millionaires per capita, which resulted in an upscale advanced community and exceptionally high housing prices. The city's Main attractions include the Rosicrucian Egyptian Museum, The Cathedral Basilica of St. Joseph, and the Tech Museum of Innovation, which narrates success stories and the history of San Jose's main economic engine. Visitors will also find a balance of nature in the town's parks, like Kelley and Alum Rock Park, along with strong local advocacy for eco-friendliness, providing rental bikes and scooters for public use. 
San Francisco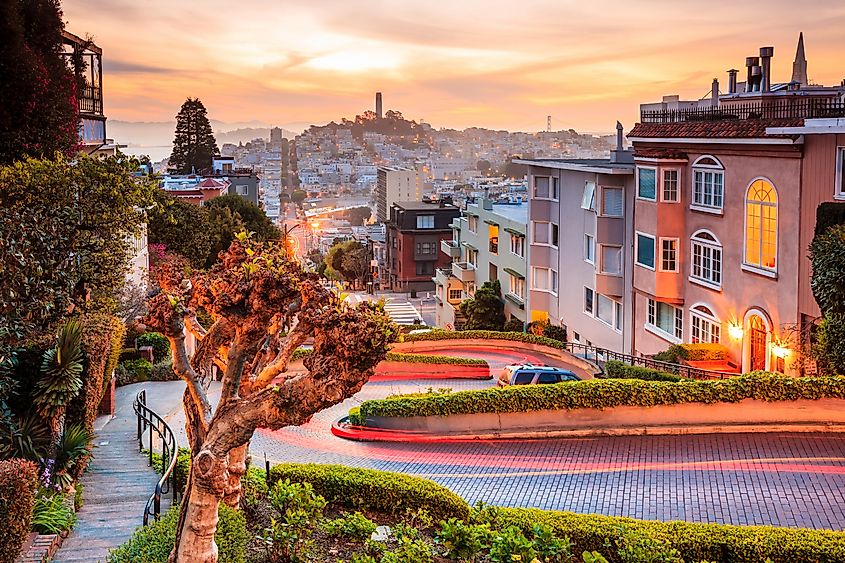 San Francisco is one of California's main commercial and financial hubs, known by locals as "The City" or historically, "The Golden Gate City" for its significant economic shift during the Gold Rush era. The city's Bay Area has long been a global center of economic activity and remains one of the best areas in California for a thriving job market, diversity, and iconic landscapes. The population of San Francisco reached a total of 808,437 in 2022 and is highly influenced by the endless employment and education opportunities offered, as it is best described as a transient city with a high residential turnover rate. The University of San Francisco, San Francisco State University, and California College of the Arts are some of the city's main contributing institutions to the population. The Golden Gate Bridge and Park, Ferry Building Marketplace, Palace of Fine Arts, and Angel Island State Park top the list as some of the must-see attractions. It is important to know that San Francisco is almost always cold and foggy, with some of its best months to visit being August and September. 
Fresno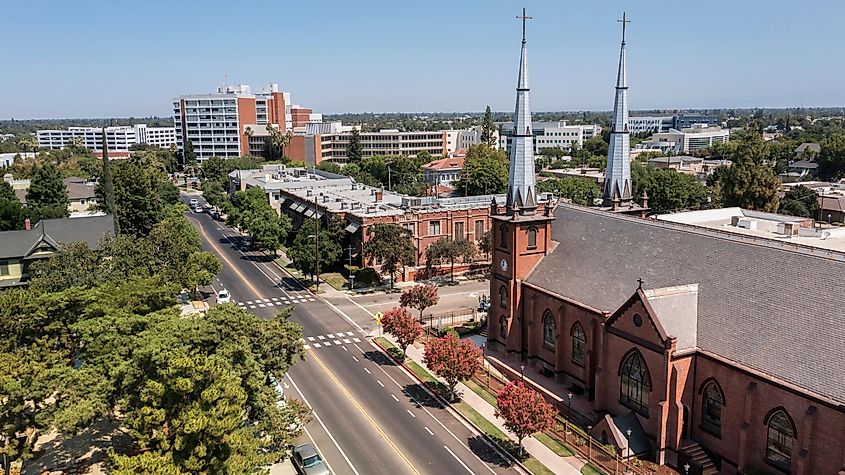 Fresno is an agricultural city named after the Oregon Ash Tree in Spanish and is a more recently developed city than other large cities in California. Fresno began as a settlement in the head Fresno Slough Area in 1872 and officially incorporated as the County seat of Fresno County in 1885. The fifth-largest city by population is rich in breathtaking nature and is centered near three national parks: Yosemite, Sequoia, and Kings Canyon. The city recorded a total population of 545,567 in 2022, offering big city amenities without leaving out elements of a tight-knit, lively community. Locals take pride in their local sports teams, whether the Fresno State Bulldogs football team or the Fresno Grizzlies Minor Baseball league. Sports are an essential element of local culture. The Fresno Art Museum, the Forestiere Underground Gardens, and the historic Fresno Tower district are some must-visit destinations. 
Sacramento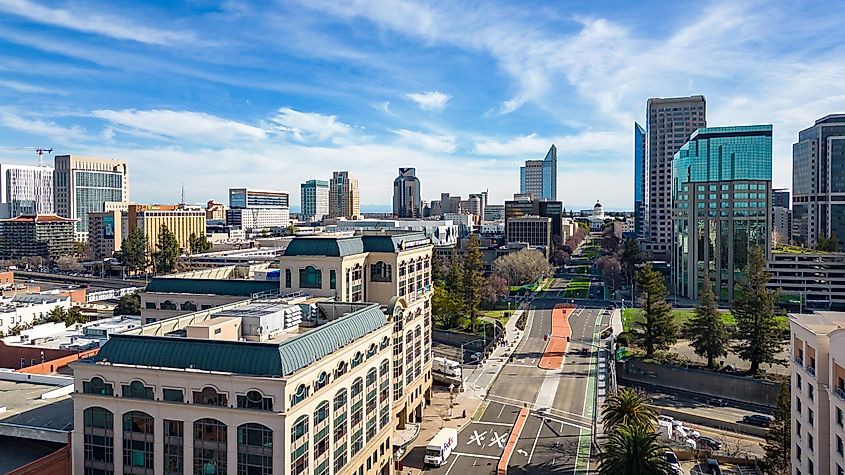 The capital of California is the sixth largest city in the Golden State and is the oldest incorporated community in the state, dating back to 1848. Before being explored by Spanish settlers, Sacramento was home to the Nisenan Native American Tribe that inhabited the area. Named after the Sacramento River, which borders the city's western side, it is another major Californian city that profited from gold mining trades. Today, the capital city's economy comprises a mix of agriculture, computer manufacturing, and software production industries, with a recorded population of 528,001 in 2022. As a highly diverse community that attracts foreigners from all over, Sacramento is an artistic hot spot with a booming urban nightlife scene. Famous cultural attractions in Sacramento include the Discovery Museum, Crocker Art Museum, and Fairytale Town, a family-fun destination that depicts the city's creativity and imagination in a child-comprehended manner. California State University ranks 18th regionally, and Sacramento State University is Sacramento's primary educational institution, offering an inclusive range of programs from sciences to healthcare. 
Long Beach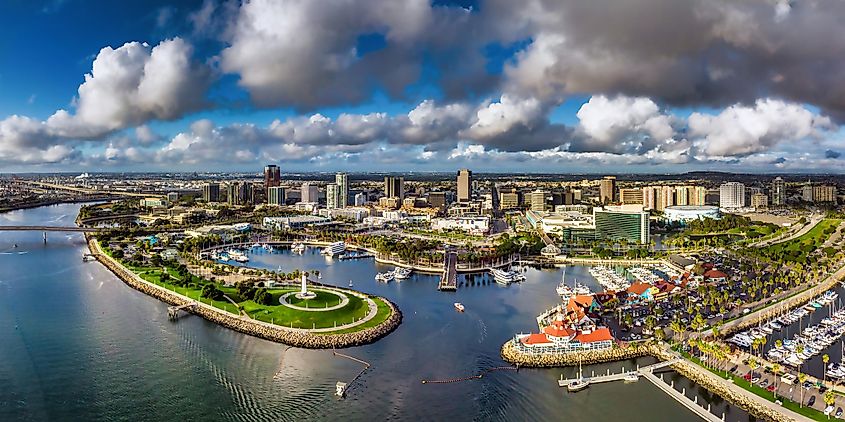 Finally, Long Beach is the seventh largest city in California, differentiated by its nature-centric atmosphere and pristine beaches. Its history can be traced to two privately owned lands, Rancho Los Cerritos and Rancho Los Alamitos. According to the Long Beach Community Development report, the discovery of oil in Long Beach led to a fast population growth in 1921. With a massive budget for development of 1 million dollars per month upon discovering natural resources, the city tapped into other economic engines by investing in tourism. From building the famous Long Beach Boardwalk and developing a seaside resort, Long Beach today is globally renowned as one of the best vacation destinations in America. In 2022, Long Beach's population reached 451,307, with most of its residents being families and young professionals seeking a balance between beach escapes and urban settings. The Downtown Waterfront, Shoreline Aquatic Park, Aquarium of the Pacific, and the bustling Shoreline Village are must-see attractions when visiting Long Beach, California. Stay at luxurious resorts like the Hyatt Regency Long Beach, Renaissance Long Beach Hotel, and Hotel Current when visiting Long Beach, and embrace the subtropical semi-cool climates when visiting Long Beach. 
Final Thoughts on California's Wonders
Ultimately, the rich history, booming job markets, and cultural significance of California's largest cities have shaped it into the dynamic and populous state we know today. From the Native American communities predating European settlement to the transformative Gold Rush era that drew thousands of fortune seekers, California's growth has been marked by economic shifts, cultural evolutions, and innovative industries. 
| | |
| --- | --- |
| 1. Los Angeles  | 3,822,238 |
| 2. San Diego  | 1,381,162 |
| 3. San Jose  | 971,233 |
| 4. San Francisco | 808,437 |
| 5. Fresno  | 545,567 |
| 6. Sacramento  | 528,001 |
| 7. Long Beach  | 451,307 |
| 8. Oakland  | 430,553 |
| 9. Bakersfield  | 410,647 |
| 10. Anaheim  | 344,461 |
| 11. Stockton | 321,819 |
| 12. Riverside  | 320,764 |
| 13. Irvine | 313,685 |
| 14. Santa Ana | 308,189 |
| 15. Chula Vista  | 279,170 |