Prior to joining Georgia Tech, Butts served as an assistant coach for eight seasons at Louisiana State University (LSU). She was part of six NCAA Tournament appearances highlighted by back-to-back Sweet 16 runs in 2012 and 2013. She coached and mentored six all-SEC academic honor roll recipients and developed seven all-SEC selections. 
Prior to her stint at LSU, Butts recorded three successful seasons (2008-2011) as an assistant coach at UCLA, setting records for regular season victories and guiding the team to the NCAA Tournament twice.
At UCLA, Butts mentored eight All-Pac-10 academic players, three All-Pac-10 honorees and two All-Pac-10 freshman team selections. In 2011, the program rose to a No. 7 national ranking and advanced to the NCAA Tournament second round.
During the 2007-2008 season, Butts served as an assistant coach at Duquesne University, where her responsibilities included recruiting, opponent scouting, academics, equipment liaison, scheduling and development of perimeter players.
An Award-Winning Coach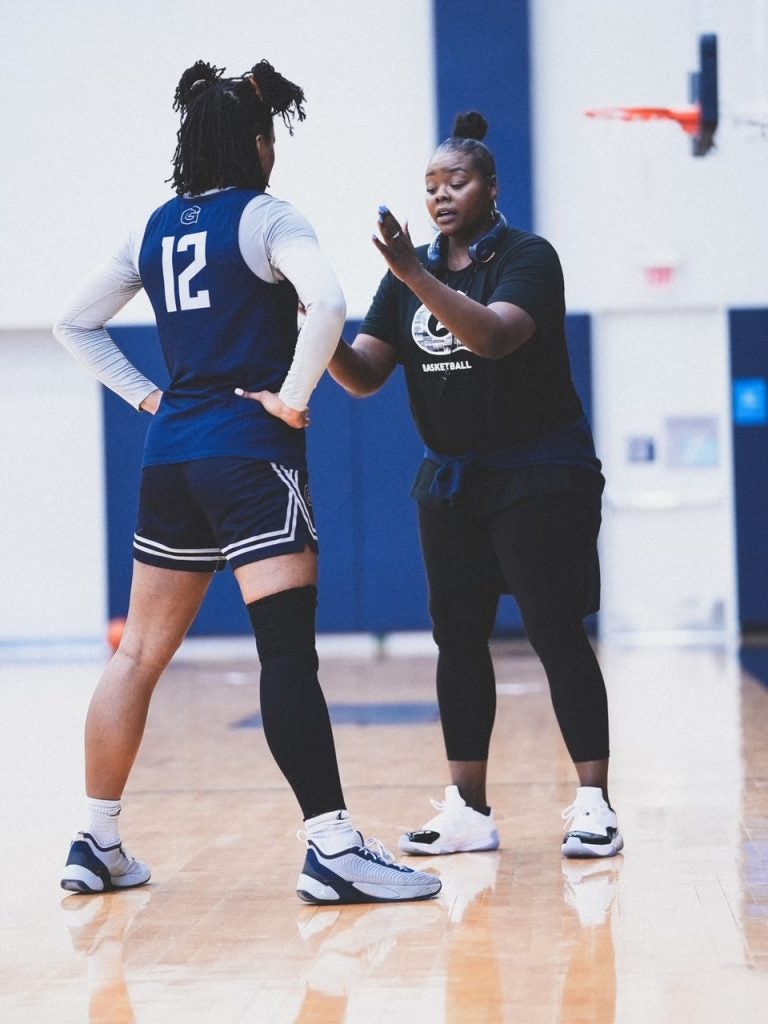 Off of the court, Butts was one of just 14 assistant coaches from around the country chosen to participate in Advocates for Athletic Equity's (AAE) annual "Achieving Coaching Excellence" Professional Development Program for basketball coaches in June 2016. 
In her first year at Georgia Tech, Butts was selected to participate in the 2020 Women Coaches NEXT UP program. In 2021 and 2023, she was selected to the Advancement of Blacks in Sports (ABIS) Watchlist, a highly competitive program. She also served as a WBCA mentor.
A Star Player
A native of Milledgeville, Georgia, Butts attended Baldwin High School where she was a consensus All-American and the Georgia Gatorade Player of the Year. She remains the all-time leading scorer at the school and her high school jersey No. 23 was retired in December 2000. Four years later, the city of Milledgeville honored Butts with a key to the city and a proclamation of achievement on "Tasha Butts Day."
She went on to play at Tennessee for the legendary Hall of Fame Coach Pat Summitt, helping the Lady Vols to a 124-17 record from 2000-2004. She advanced to the Sweet 16 her first year and to the 2002 Final Four her sophomore season. From 2003-2003, she helped the Lady Vols to back-to-back National Championship games, and as a senior, Butts earned All-SEC Second Team honors after averaging 10.4 points per game and ranking second in the league in three-point field goal percentage (43.0).
Additionally, Butts was part of four SEC regular season championship teams, as Tennessee compiled a 55-1 SEC record in her four years. She left UT ranked fourth all-time in games played (141) and tied for seventh in three-point shots made (103). 
Butts graduated from Tennessee with a Bachelor of Science in sports management while minoring in business administration in 2004. She was chosen by the Minnesota Lynx with the 20th selection in the 2004 WNBA Draft and saw action in all 30 games as a rookie, helping the club equal a franchise record with 18 wins and earn a spot in the playoffs.
Following the 2004 WNBA season, she returned to her alma mater and served as a graduate assistant coach with Pat Summitt. The Lady Vols won the 2005 SEC Championship that season and advanced to the Final Four.
Butts played overseas in 2005 for Essa/Barreiro in Portugal, averaging nearly 18.0 points per game. The following season, she played for Raanana Hertizliya in Israel, where she scored 15.5 points per game. Butts also played briefly with the Charlotte Sting and Houston Comets of the WNBA.
She is survived by her parents, Spencer Sr., and Evelyn, her brother Spencer Jr., and her nephew Marquis along with an extended family and the entire women's basketball community.
With the 2023-24 campaign tipping off in November, Darnell Haney has been named Georgetown's interim head coach for the season. The Hoyas and BIG EAST Conference will continue to honor Butts' memory all season keeping her Tasha Tough initiative going to bring awareness to early cancer screenings and detection.