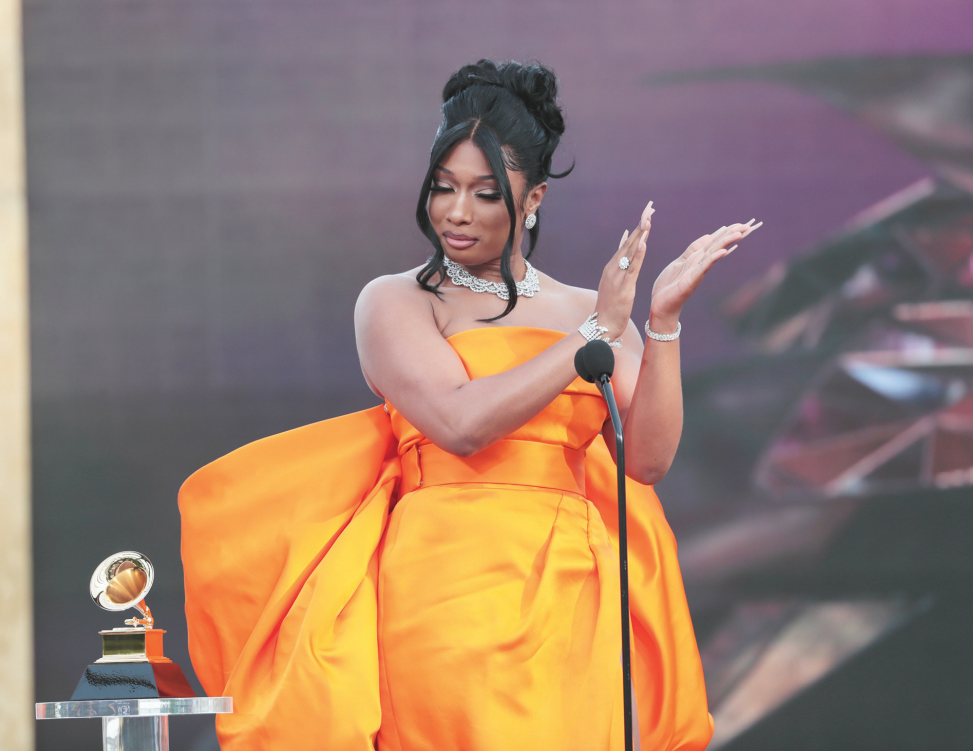 Has Megan Thee Stallion entered her indie era?
It depends on who you ask.
The "Savage" rapper is back to recording new music after the end of the Tory Lanez criminal case and a busy festival season. And she said she is doing so without her label, 1501 Certified Entertainment, and her distributor, 300 Entertainment, which is under Warner Music Group. Megan Thee Stallion sued 1501 in 2022 in an attempt to get out of the contract she signed in 2018 and has since called the contract "one-sided" and "unconscionable," according to court documents obtained by The Times.
"I have no label right now, and we're doing everything funded straight out of Megan Thee Stallion's pockets," she said, according to  a recording  of a recent live stream on the Instagram account of her music producer, LilJuMadeDaBeat. "The next s— y'all 'bout to see 'bout to be straight from Megan Thee Stallion's brain, Megan Thee Stallion's wallets."
The Grammy winner added, "I'm so excited to be doing something for the first time independent since it was just me and my mama … until we sign to a new label. But I don't want to sign to a new label right now, because I just want to do it myself until I'm completely out of." At that point, the recording cut out.
However, the label asserts in court documents that Megan Thee Stallion, whose legal name is Megan Pete, is still under contract with them and owes them another album under the terms of the agreement.
In a series of lawsuits against 1501, filed successively throughout 2022 in Harris County, Texas, the Houston rapper has tried to get out of the deal she signed in 2018 with the label's founder, former Major League Baseball star Carl Crawford. She stated in her complaints that the label owed her more than $1 million in unpaid royalties, had failed to promote her music or allow her to record new music with other artists, and signed her to a deal that was below industry standards.
The label, Pete further alleged, purposely didn't categorize her 2021 release "Something for Thee Hotties" as an album, in an effort to "tie" her down and force her "to release more albums under the contract to the financial benefit of 1501."
Attorneys for 1501 and Crawford said in a counterclaim that Pete is the one who owes money. The label said Pete needs to pay it more than $10 million in earnings and royalties from touring, merchandise sales and her sponsorships, endorsements and commercial work with other brands.
The label also accused Pete of lying to Universal Music Group when she said she controlled the rights to some of her music. Because of this, money earned from the songs that were supposed to go to 1501 instead went to Universal, court documents said.
The label also said in court documents that Pete "has consistently refused to comply with the [contract] provisions she does not like." And because the label said "Something for Thee Hotties" was not an album, they allege that Pete still owes them another full-length release.
Representatives for Pete, who is managed by Roc Nation, did not immediately respond to The Times' request for comment. An attorney for 1501 declined to comment.
Teasing new music
Megan Thee Stallion teased an upcoming project in a series of Instagram posts  on Thursday, Oct. 12, revealing images of her posing with vampire-esque fangs, accompanied by images of snakes and the title "Act One." In a caption that ran over two of the posts, she wrote, "Let's begin."
The "Thot S—" performer hasn't released new music since before December, when a jury convicted fellow music artist Tory Lanez of shooting her in the feet during an alcohol-fueled argument after a Hollywood Hills party in July 2020. During the trial, Pete gave tearful testimony about how the story had been misconstrued to center her as the villain. Lanez, whose legal name is Daystar Peterson, is serving a 10-year sentence  in California Correctional Institution in Tehachapi, north of Lancaster, according to state prison records.
In April, Pete wrote an essay for Elle that further addressed the emotional toll from the trial. In it, she called herself a survivor of "the unimaginable" and wrote that she "overcame the public humiliation of having my name and reputation dragged through the mud by that individual for the entire world to see."
She has since performed at festivals and the  MTV Video Music Awards  in New Jersey last month. During her set at Outside Lands Music Festival in San Francisco in August, her first performance after Peterson was sentenced to prison, she addressed all of her "haters."
"None of that s— you was doing or saying broke me," the "WAP" performer told the audience, drawing cheers. Then she called on her fan base, referred to as "Hotties," and added, "None of that s— y'all be doing or saying to the Hotties broke them!"