Article content
Paris Hilton has fired back at trolls mocking the size of her infant son Phoenix Barron's head.
Last week, the hotel heiress posted pics of her baby boy online to mark his first trip to New York City. But the sweet snaps were met with derision from some of Hilton's followers.
Article content
"That's a huge head!!" one person cruelly wrote, with another tried to joke, "She adopted Stewie from Family Guy."
Article content
After TikTok Stephanie Tleiji highlighted the negative reaction to her post, Hilton replied that her "angel is perfectly healthy" and "just has a large brain."
"Phoenix is beautiful … I'm sorry, Stewie wishes he was this freaking cute," Tleiji said in her TikTok video. "What is wrong with with humanity?"
In a follow-up Instagram message, Hilton called the comments "unacceptable."
"Living life in the spotlight, comments are inevitable, but targeting my child, or anyone else's for that matter, is unacceptable," she began.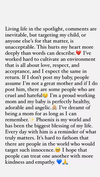 "This hurts my heart more deeply than words can describe. I've worked hard to cultivate an environment that is all about love, respect, and acceptance, and I expect the same in return. If I don't post my baby, people assume I'm not a great mother and if I do post him, there are some people who are cruel and hateful," the new mom continued, calling her son, "the biggest blessing of my life."
"It's hard to fathom that there are people in the world who would target such innocence," Hilton concluded. "I hope that people can treat one another with more kindness and empathy."
Hilton, 42, and her husband Carter Reum welcomed their first child together in January via surrogate after tying the knot in 2021.
Hilton's post was flooded with supportive messages, with one fan writing, "Reading certain comments about this sweet child, I understand why we deserve extinction."
Share this article in your social network