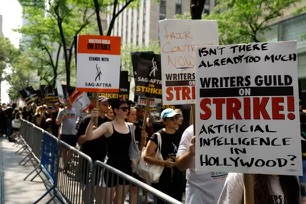 When Emily Garrett graduates from Southern Methodist University this May, she will be entering a workforce that lacks stability–film and television. Working toward a better industry for this new generation of actors is one of the main incentives for the ongoing strikes in Hollywood.
The Screen Actors Guild– American Federation of Television and Radio Artists, better known as SAG-AFTRA, has been on strike since July 14, 2023. Garrett, who is double majoring in acting and arts management, has mixed feelings about entering the entertainment industry amidst uncertainty.
"The job security is not there," said Garrett, who hopes to do both stage and screen acting. "It's risky, for sure. But I love it so much, so I couldn't see myself going after anything else… I'm definitely nervous, I'm skeptical, but I'm hoping that we'll just figure it out along the way…and that I won't be broke."
The union is hoping to negotiate a new contract with the Alliance of Motion Picture and Television Producers, or AMPTP, that includes an 11% wage increase to reflect the changing economy, better protection against the use of actors' likenesses via artificial intelligence and a residual system for streaming services.
To the general public, this strike can mean waiting a bit longer to binge-watch new episodes of their favorite show. To members of SAG-AFTRA, it could mean a new contract that provides them with enough money to put food on their table and qualify for the union's healthcare.
Working people and basic dignity is what the strike boils down to, SAG-AFTRA Dallas-Fort Worth and Houston-Austin local executive director Tom Schwarz said.
"Right now, you know, the way the system is, it's hard for somebody just getting into the business to think about how they're gonna actually put a living together doing this," Schwarz said. "So, we're fighting for them, really, to make sure that in the future, you know, folks can do this professionally and have a career and just the basic dignity that any worker is asking for."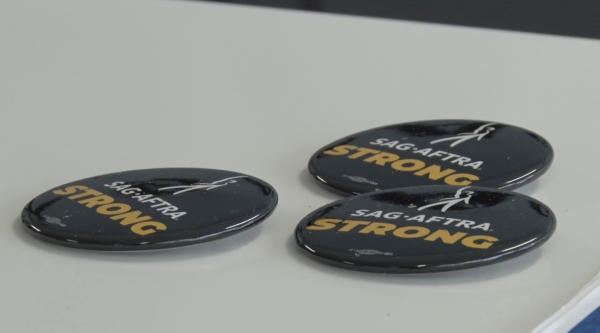 Another one of these passionate, hopeful graduates is Morgan Draper, who studies acting at SMU.
Draper spent the summer of 2023 in New York City, where she joined the picket lines in July with both SAG-AFTRA and the Writer's Guild of America, or WGA, whose strike successfully ended on Sept. 27.
With her eyes set on a future in La-La Land, Draper can't help but feel conflicted about what the SAG-AFTRA strike is revealing about a career in acting.
"I'm so happy that current actors in SAG-AFTRA right now are fighting for seniors and aspiring actors, like me, to have a better position in the industry," Draper said. "But also, it's kind of disheartening at the same time, because we're learning how much actors aren't being respected in terms of salary, in terms of residuals. [They're] just expected to give so much of their time for stuff that they love to do, and then just not being thanked for it, really."
The support for the strike expands beyond hopeful actors. Encouragement from the general public is part of why SAG-AFTRA has been able to begin negotiations with the AMPTP, Schwarz said.
The SAG-AFTRA Foundation, an emergency assistance program for struggling union members, is one way the general public can help show their support.
"We're raising money for them [SAG members] to help them pay their bills, get food, do things like that," Schwarz said. "So you can go to the SAG foundation website and make a donation. Otherwise, just keep this alive and going. Keep talking, put pressure on the studios to make sure they know that the public's behind us."