Celtics
The top of the Celtics' rotation looked great in a tune-up against the Knicks.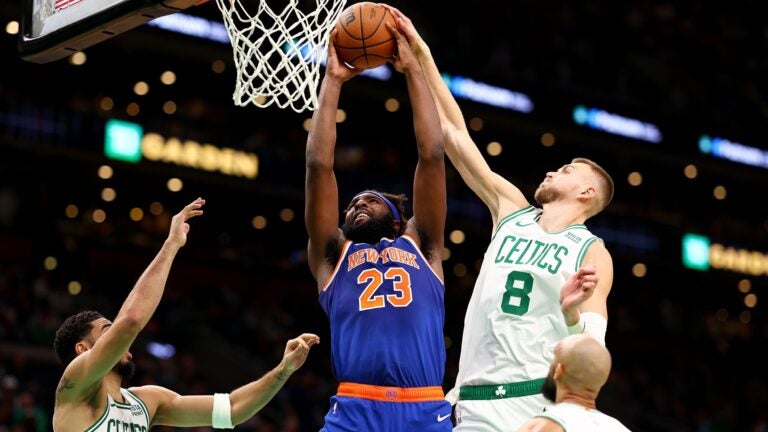 The Celtics beat the Knicks 123-110 on Tuesday in their second-to-last preseason game, which may also have doubled as the final chance for their new-look rotation to get comfortable prior to the start of the season.
Here are the takeaways.
1. At Celtics Media Day, Jayson Tatum made waves by telling reporters he had put on 12 pounds of muscle. That assertion was equal parts concerning for opponents who have to deal with his aggressive forays to the rim, and to the Celtics, who really need him to him to be an efficient 3-point shooter. Packing on muscle can mess with some players' shots.
On Tuesday, the former remained a concern (for opponents), as Tatum successfully bullied multiple defenders on his way to the basket. But Tatum's 3-point stroke also looked good. He finished 5-for-8 from behind the arc en route to 28 points. The 3-pointers looked smooth and in rhythm, and — as is the case when Tatum is at his best — his height, quick release and smooth stroke made his 3-point shot essentially unguardable.
Surrounded by so much offensive talent, Tatum's big evening didn't stand out quite as much as it might have last year, but he finished with 28 points, eight rebounds, four assists and three steals in 30 minutes. On this roster, and as he enters his prime, fully realized Jayson Tatum is a contender to take home some regular-season hardware.
2. The Celtics' regular rotation has so many ways to beat you.
Kristaps Porzingis offers dozens of little wrinkles that were missing last year — pick-and-rolls, pick-and-pops, pin-downs, post-ups, lobs, and even a little off-the-dribble action that nearly sat Isaiah Hartenstein down.
Jrue Holiday has a bunch of different ways to score even if he isn't making 3-pointers (and he can make plenty of 3-pointers).
The Celtics can be lethal in transition, especially when they unselfishly look for the open 3-point shooter.
They can punish you for over-committing to anyone — at one point, the defense swung too hard to one side, which allowed Sam Hauser to drive, draw a defender and find Al Horford for a 3-pointer. If an opposing defense is so stressed that Hauser can gash it off the dribble, the Celtics are in a great place.
The starters played deep into the game. Whether they play again in the preseason or not, we have a lot of evidence that the top of the Celtics' rotation can do some real damage.
3. Holiday may have made the best play of the preseason in the first half. Off a defensive rebound that bounced oddly, Holiday converged on the ball alongside Evan Fournier, and dribbled it between Fournier's legs to spark a breakaway. On the other end, Holiday zipped a pass to Payton Pritchard for a 3-pointer.
4. We also got some glimpses of what Holiday brings as a defender. He moves his feet better than just about anyone this side of Marcus Smart and can stonewall opposing ball-handlers — staying in front and disrupting their forward motion. Even if they hang on to the ball (which is no guarantee against Holiday's quick hands), stonewalling a ball-handler completely disrupts an opponents' offensive action. Holiday reads angles well and is happy to dart in and intercept a pass, and Mazzulla tried out a full-court press at one point that highlighted how tough and versatile the Celtics' defense can be with Holiday and Derrick White on the floor.
5. The Celtics challenged an out-of-bounds call in the second quarter, which Kristaps Porzingis had pretty clearly knocked off a Knicks player. Last season, the Celtics might have hung onto their challenge in case they needed it later in the game, but NBA rules now allow teams another challenge if they win their first one.
That gives Celtics assistant Matt Reynolds a chance to shine. Reynolds is known as the Celtics' go-to coach for challenges, and Joe Mazzulla trusts him implicitly.
"If he tells me to do it, I'm always going to do it," Mazzulla told Boston Sports Journal. "If he says it, I'm doing it a thousand percent of the time." 
Expect to see a lot more early-game challenges from Reynolds and the Celtics this year. Previously, coaches wouldn't use their challenge even on a no-brainer missed call in the first half in case they needed it for a desperation moment down the stretch. This new rule should lead to more accurate officiating.
6. The Celtics let their 27-point first-half lead drain away a bit in the second. We would contend that worrying about the natural inclination to let up in a blowout preseason game is unnecessarily negative, but the Celtics weren't very safe with a big lead last year, so fans with any lasting damage to their psyche can probably be excused.
7. The lineup that started the fourth quarter actually might have some juice, even though neither Tatum nor Jaylen Brown was a part of it — the group of Porzingis, Hauser, Al Horford, Payton Pritchard and Dalano Banton provides plenty of firepower and plenty of size.
Also noteworthy: Banton was the first out-of-rotation player to enter into the game, which is a good sign for him. Oshae Brissett played as well, but Svi Mykhailiuk, Jordan Walsh, Neemias Queta and other preseason standouts all remained on the bench.
8. The Celtics only have one more preseason game — Thursday against the Hornets — and presumably, it will be an opportunity for all the players who took part in training camp to make a final case for themselves, whether they are auditioning for the Celtics or someone else. If you didn't get a chance to catch Tuesday's game, you might have to wait until Oct. 25 when the Celtics' regular-season slate begins.
The good news for Celtics fans? This team might be worth the wait.
The Celtics and Hornets tip off at 7 p.m.
Get the latest Boston sports news
Receive updates on your favorite Boston teams, straight from our newsroom to your inbox.