After visiting historic movie sites, touring filming studios, and exploring the Cinegear exploration, VSU's South Georgia Film Festival student group trip to Atlanta concluded with meeting multiple trailblazers in the film industry. 
The tour was part of a trip taken by several mass media students to Atlanta earlier this month. 
Students first got the opportunity to speak with Marti Young. Young is a writer, producer, and director who has won a Best Director award for her movie "The Adventures of Wonder Boy" at the Miami Beach Film Festival. 
Young shared with students about her experience in getting started with working in the film industry and how she built her way up to where she is now. 
"I got sick and tired of seeing remakes of old shows, no one was doing anything. One day I sat up and was like 'I need to write a script.' I had no idea how to write a script. So, I got the most important book known to man, how to write a script for dummies," said Young.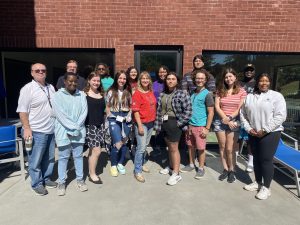 After meeting with Young, the students headed over to the Georgia Film Academy where they were granted a personal tour by the executive director of the school, Scott Votaw.   
Votaw first spoke about his experience in the industry and how he had traveled to California to work on TV commercials, films, animation, motion capture, and so much more due to the lack of film industry in Georgia at the time. 
After his introduction, he took students to view some of the popular classes that are offered at the academy. The classes included film and television production, digital entertainment, Esports, and game development.  
The last part of the tour concluded with students getting to see the studio area at the academy that is an exact replica of one of the studios at Trilith and where attending students practiced building production sets. 
Votaw departed with the students with a few inspiring words; "Get up in the morning and make your bed. Is anyone gonna see it all day? Nope. But you accomplished your first task of the day. Set your mind and your life to accomplishing those little tasks, it says who you are."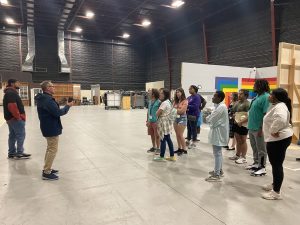 After the tour, students were incredibly happy to have gotten the experience. 
"It was really cool to see what GFA is doing to teach students how to be real workers in the industry and not just creative minds, which is important, but it's just better to give them real industry skills that they'll need," said mass media student Daune Ryan Kroesser. 
Before leaving to head back to Valdosta, students met with one last speaker, Frank Amoroso. Amoroso is an environmental steward and production assistant who had worked on films such as "Avengers: Infinity War," "Deadly Secrets of a Cam Girl," and "I Will Never Leave You Alone." 
The interaction with Amoroso was brief but informative as he mostly spoke of his upcoming opportunities with different studios including Disney.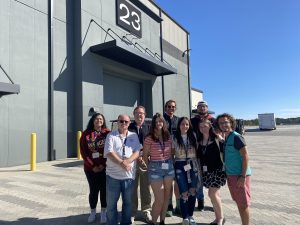 Written by Jasmine Hightower, Entertainment Editor.  Photo courtesy of Jasmine Hightower.